Are you trying to figure out the right kind of necklace you should get that suits your outfit and resonates with your style? Don't worry – we can help you. Necklaces are available in various lengths and styles – and with the huge variety available, it only becomes more challenging to choose one that matches your fashion sense and enhances the look of your outfit.
When shopping for necklaces, it is important to be well-informed about the types of necklaces and what looks best depending on your outfit. So if you have any confusion, we are here to your rescue. Here is a necklace buying guide to help you pick out the perfect necklaces for yourself!
1. Metal chain
This is one of the most common types of necklaces. A metal chain itself has many different types – depending on the way the chain is linked, you can get chunky cable chains for a bold look or tightly linked byzantine chains for a more feminine look. Moreover, metal chains come in many different lengths; you can buy one that goes perfectly with your outfit's neckline. You can purchase metal chains made of sterling silver or gold – depending on the color you want to go for.
2. Pearl Strand
As obvious from its name, a pearl strand is a necklace made entirely out of pearls. It is one of the more lavish-looking necklaces and is perfect for giving you that luxurious yet classy look. Pearl strands can be worn as chokers or as long-length necklaces – depending on your outfit and body type.
3. Pendant
Pendants are necklaces with one piece of gemstone or diamond attached to them. They're perfect for a minimalistic and elegant look. A solitaire pendant with a single piece of diamond is the most popular among pendants and can be worn with almost any outfit. If you are wearing a deep neckline – a solitaire pendant is the best option for you.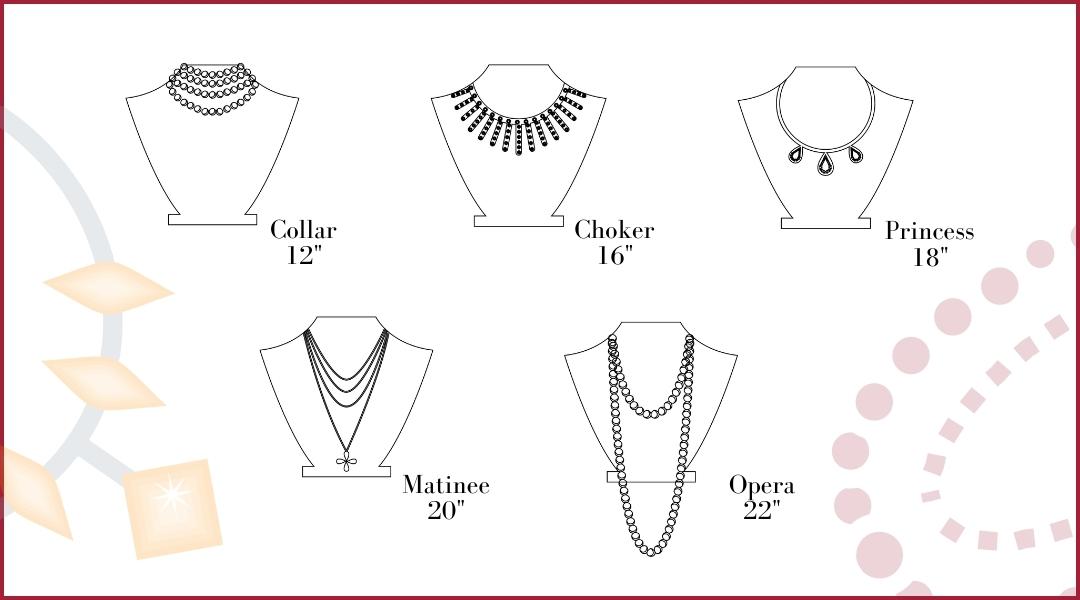 Necklace Lengths
Necklaces come in many different lengths, but not many have the knowledge of buying the right length of the necklace to go with the dress you plan on wearing. Here is a short guide for you:
● Choker Length
Choker light is about 16 inches and lands just above the collarbones. Chokers are perfect for emphasizing the neckline and go best with a tube top.
●

Princess Length
Princess length is about 18 to 20 inches. It is the most common length for necklaces and hangs over your collar bones. A princess-length chunky chain looks great with turtlenecks.
●

Matinee Length
This is about 21 to 22 inches long and works best for tall women. It lands right between your collarbones and busy and looks perfect on collared shirts or higher necklines.
● Opera Length
Opera length necklaces are above 23 inches and hang on busy or below it. They look great for both high and low necklines. If you have a long v-shaped neckline, a pendant of the opera length will look great; otherwise, an opera length metal chain or strand would look best for a higher neck.
Shop at ValueMax
We hope this necklace buying guide was helpful for you. Suppose you are looking for necklaces to buy for yourself or to gift someone you can check out ValueMax. We have a huge collection of multiple types of uniquely designed necklaces. So don't hesitate and shop now!
VISIT your nearest valuemax now