Art Deco is also known as "style modern". It is the movement in the visual arts and design that originated just before World War I, picked up speed in the roaring twenties and developed into a major style in western Europe and the United States during the 1930s.
An Art Deco ring is a vintage ring that was handcrafted during the Art Deco era. They are characterized by their geometric shapes, bold lines, clean cuts and symmetrical ornaments. There is a distinction between an authentic Art Deco jewellery and an Art Deco inspired modern jewellery.
The former are genuine vintage rings crafted during the era, one-of-a-kind with priceless historical aspect. On the other hand, modern Art Deco inspired rings are made after the era while bearing the characteristics of the style. The design might be a blend of contemporary with classic.
Characteristics
1) Geometric shape
The geometric shape in Art Deco designs was one of the defining distinctions of this era. Shapes like squares, rectangles and circles were used in the crafting of their jewellery to capture the modern spirit of the time and to distinguish them from the fluid lines and natural themes of Art Nouveau pieces.
This Art Deco inspired ring features a circular cabochon cat's eye in a geometric cushion halo mounted on 18k white gold setting: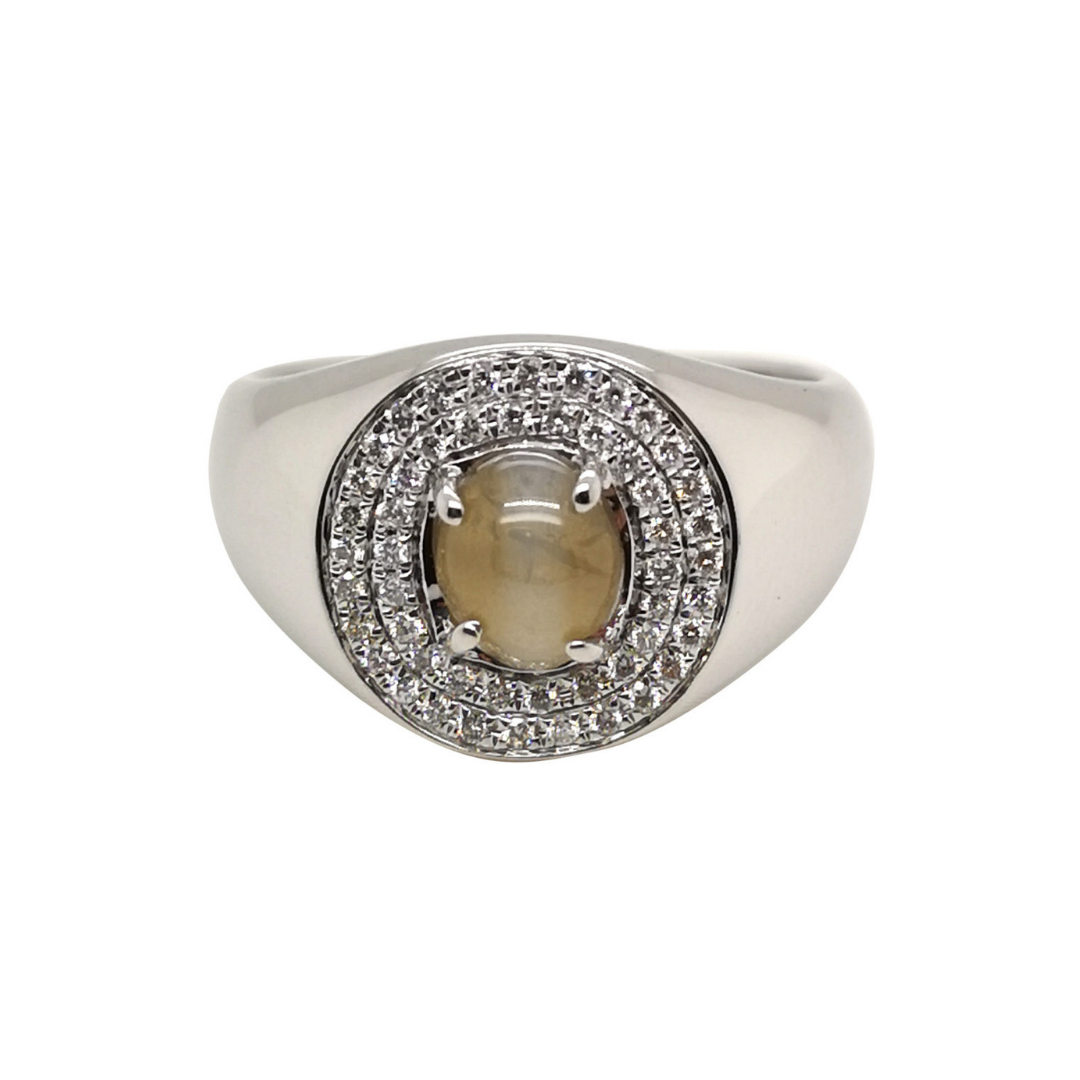 SHOP NOW AT VALUEMAX
Featured in this Art Deco inspired ring are the manifested ideals in the use of pavé diamonds and sleek geometric angles, as well as a scintillating design that reflects the economic abundance of that era.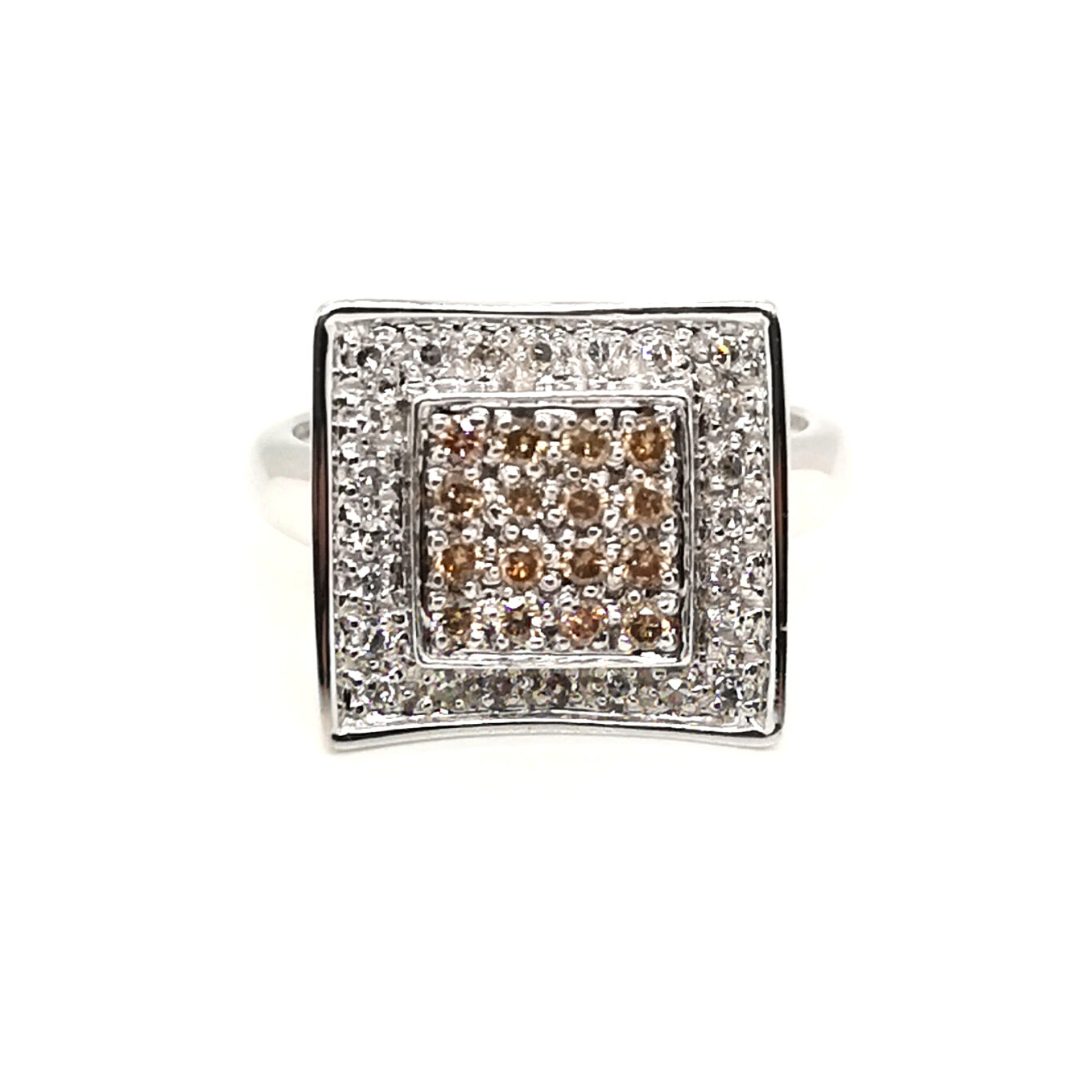 SHOP NOW AT VALUEMAX
A large sparkling centre stone makes a bold statement while showcasing single rows of pavé diamonds along the side of the shank: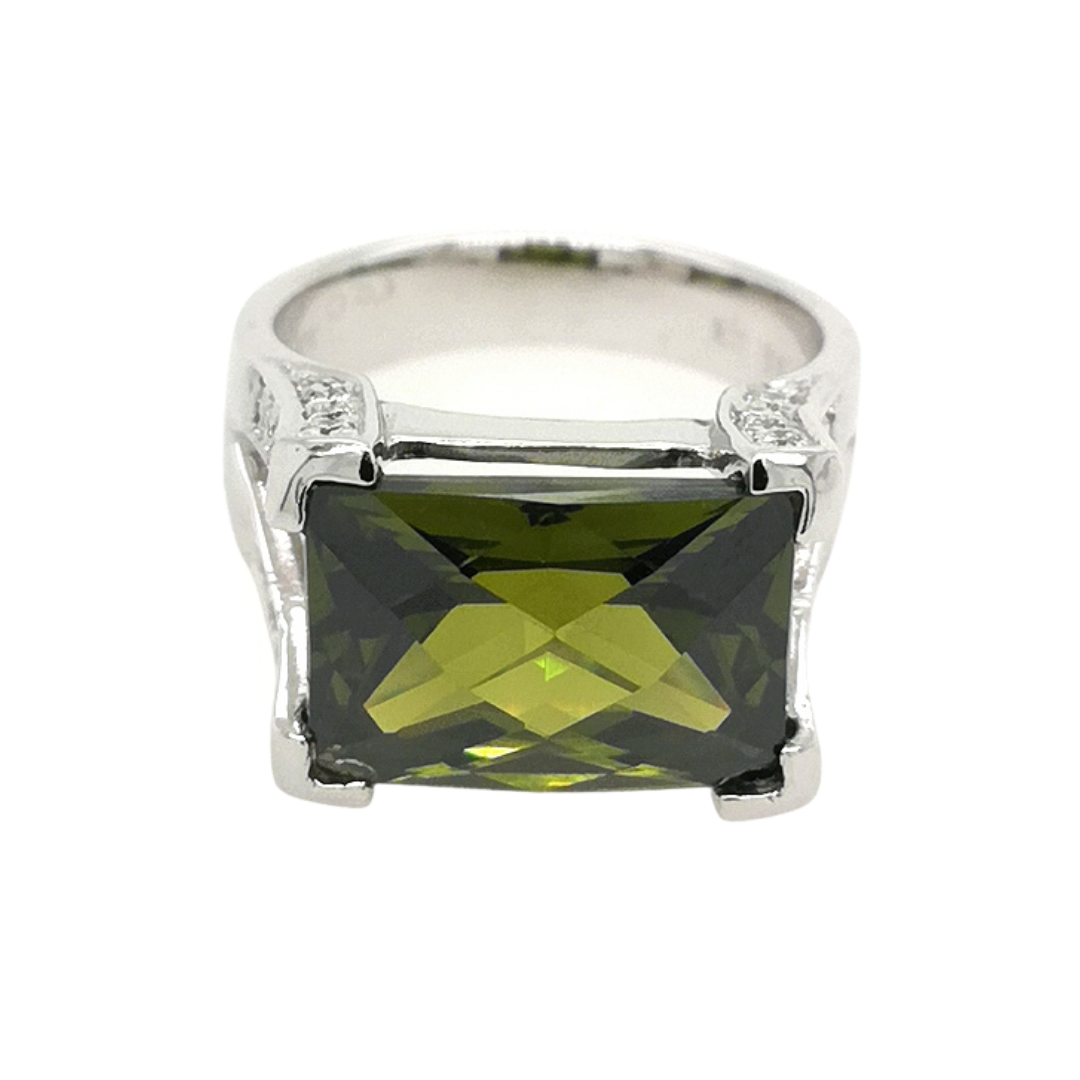 SHOP NOW AT VALUEMAX
2) Bold and contrasting colours
Vibrant-coloured gemstones were prominently featured in the rings of the Art Deco era. The colours of the gems used during that period were striking and bold, paired or punctuated with a high-shine platinum or white gold setting.
The designers created eye-catching combinations of diamonds with rubies, sapphires, and emeralds. Complemented by a selection of smaller gemstones, the centre piece sometimes used cabochon cut semi precious stones such as pearl, jade, chrysoberyl, and turquoise make the colour contrast.
Going with the big and bold theme, this ring contrasts a blue sapphire to white accent diamonds for a stunning colour combination: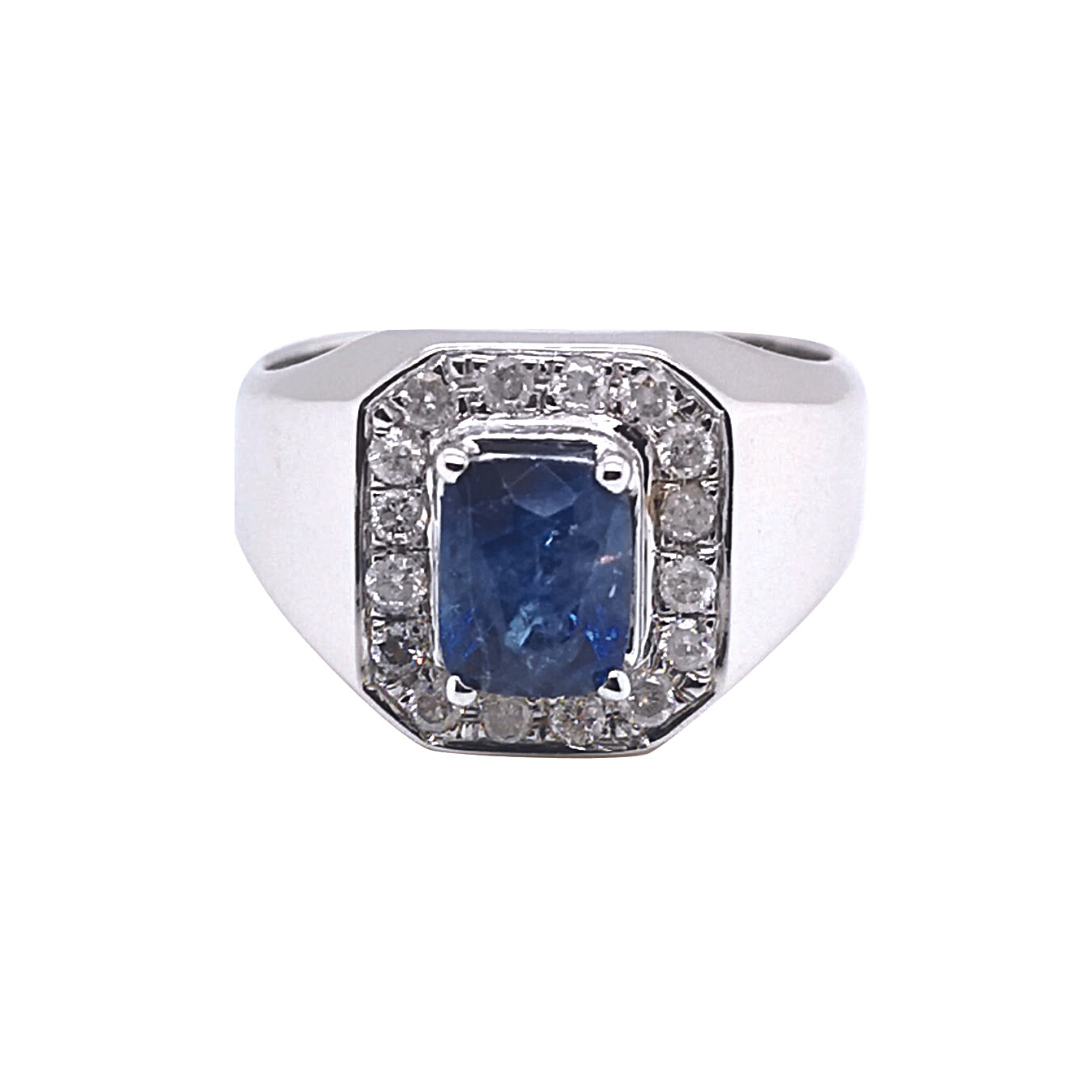 SHOP NOW AT VALUEMAX
This Art Deco inspired ring that features a 4.28 carats cabochon ruby is finished with scintillating accented diamonds detailing to the shoulders.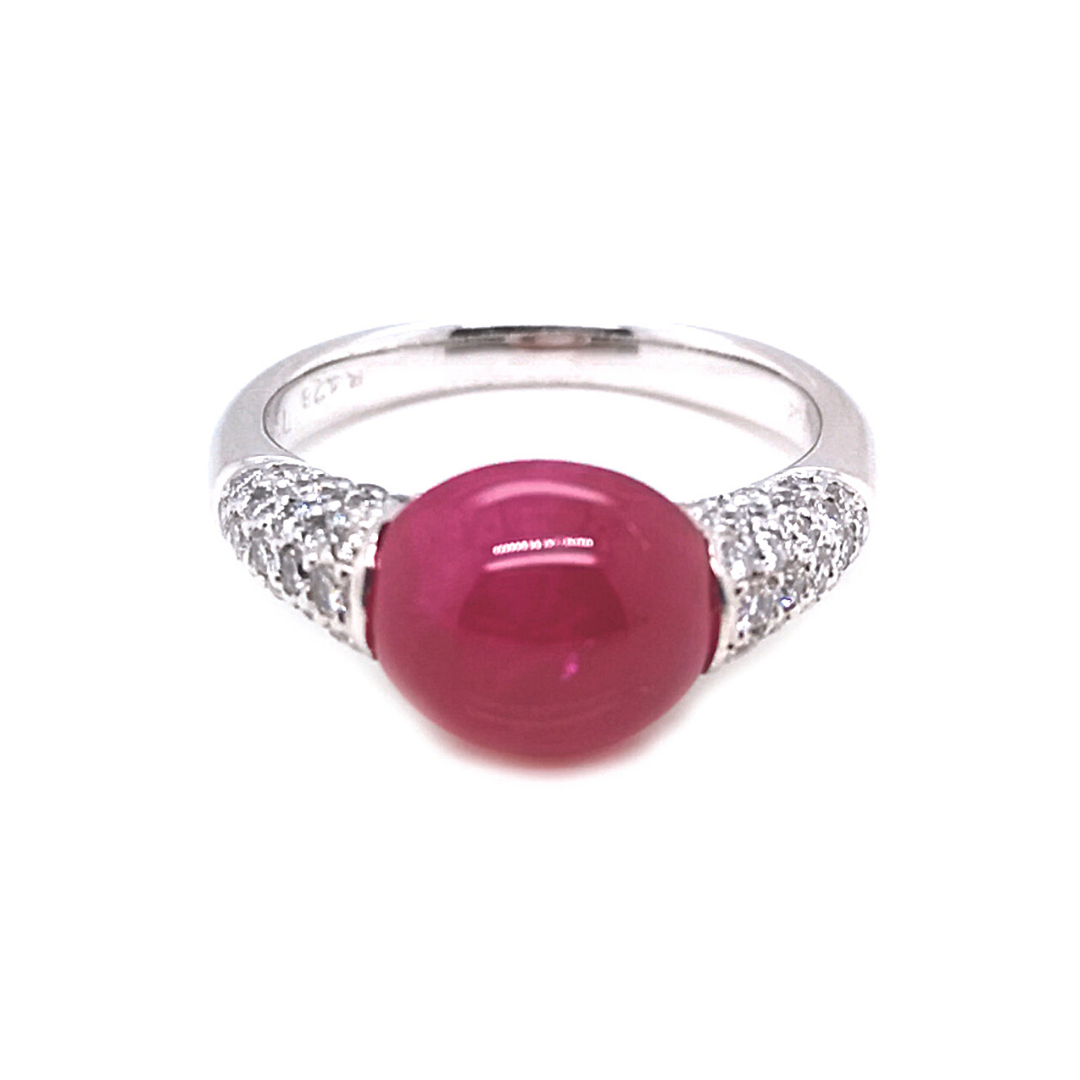 SHOP NOW AT VALUEMAX
Cultured pearls remained popular throughout the Art Déco era. With a dark coloured pearl flanked by accented diamond shoulders, this ring contrasts feminine elegance to a vivacious and independent spirit: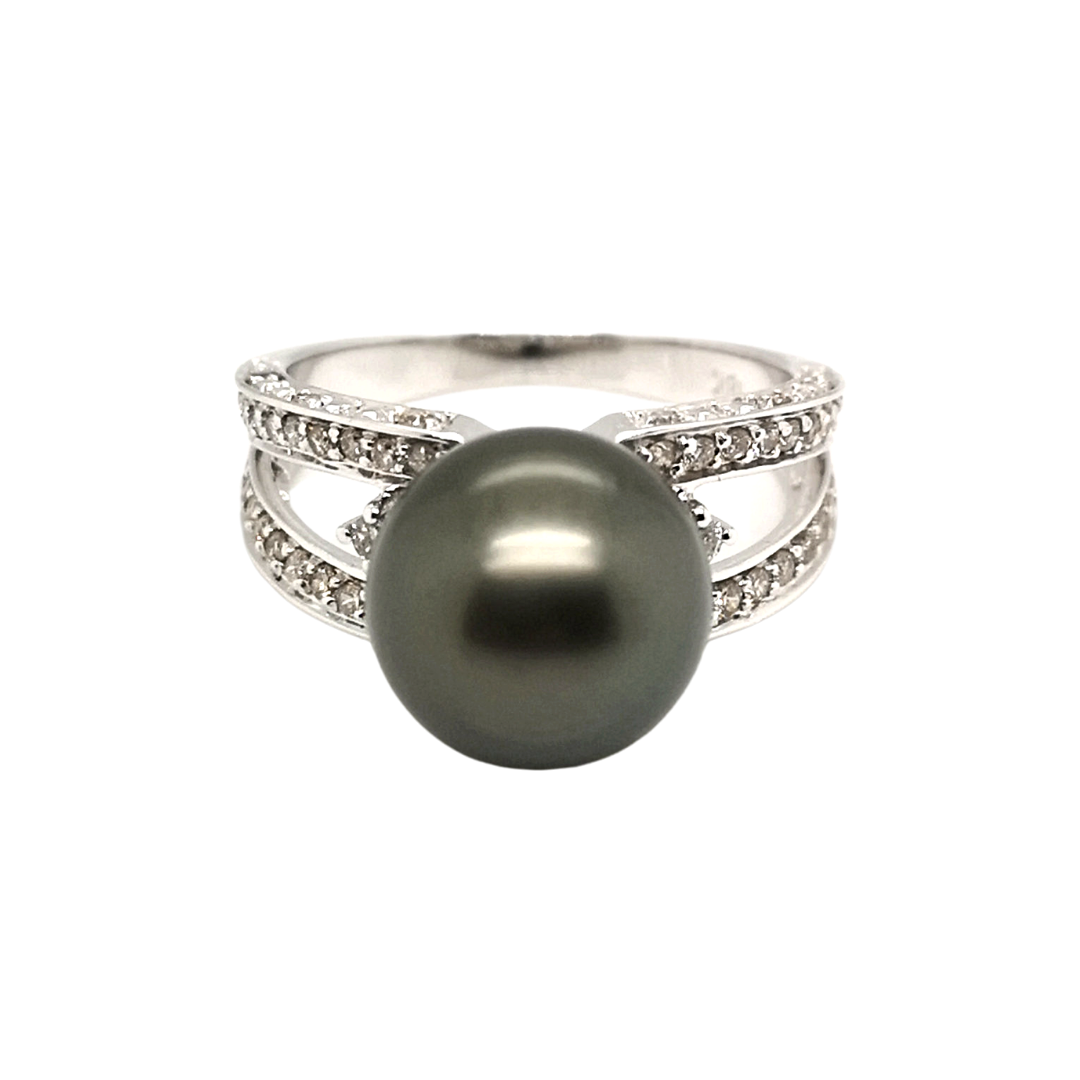 SHOP NOW AT VALUEMAX
3) Precious metals, mostly platinum
The Art Deco style was a reminiscent of their precursors, the Edwardians in that platinum continued to be popular. Platinum was the preferred choice of setting for genuine vintage Art Deco rings. Art Deco pieces that came from the Depression years also feature yellow or white gold. Modern days Art Deco inspired style rings are often crafted in white gold with a backdrop of white diamonds accenting the brightly coloured gem or centre diamond piece as the focus.
[Sold] A contemporary Art Deco inspired design, this 2.16 carat emerald ring is crafted in platinum, favoured for its strength and resistance to tarnishing. The shoulders are accented with geometrically set diamonds totalling 0.31 carat: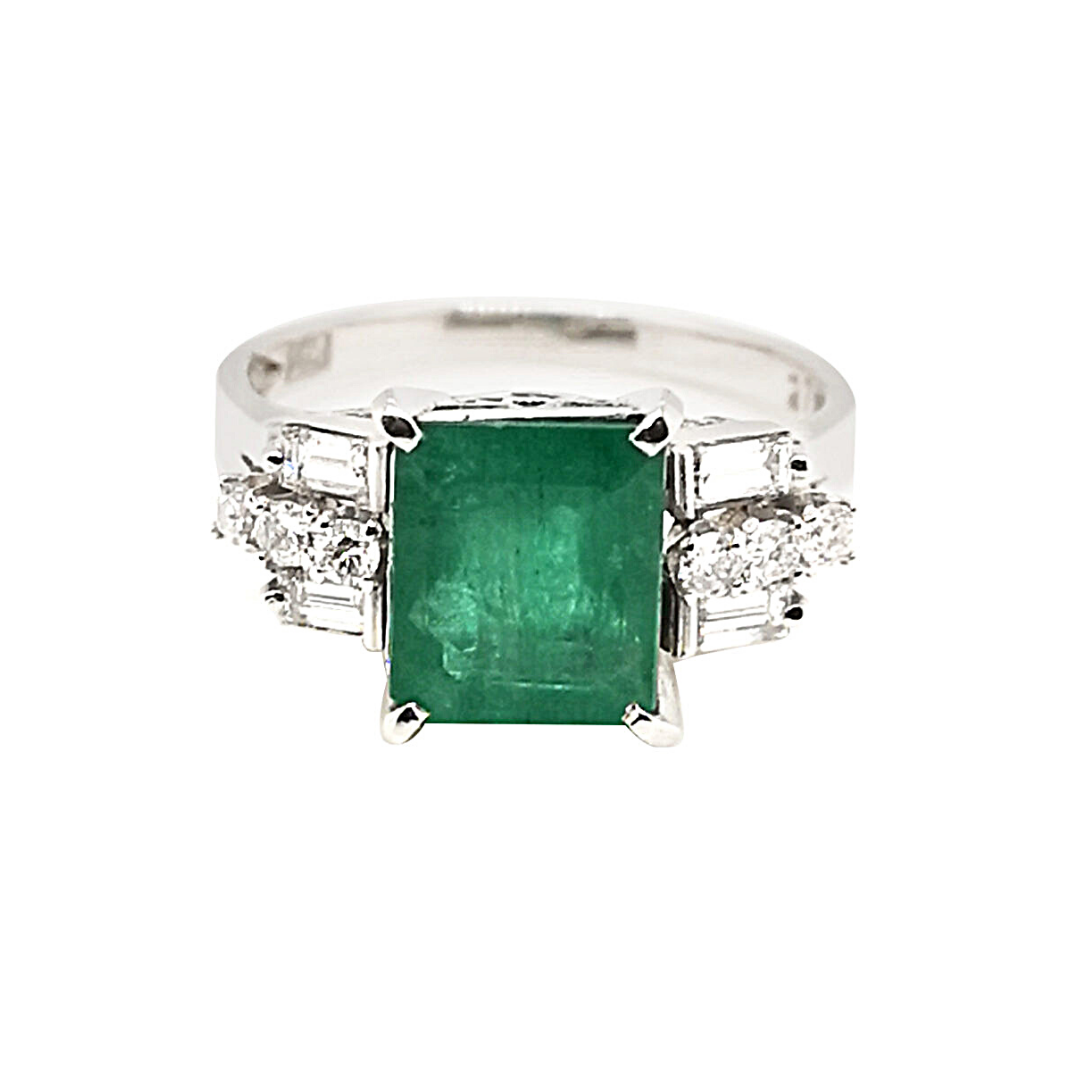 SHOP NOW AT VALUEMAX
This striking yellow amethyst ring is among the few rare Art Deco inspired pieces in yellow gold: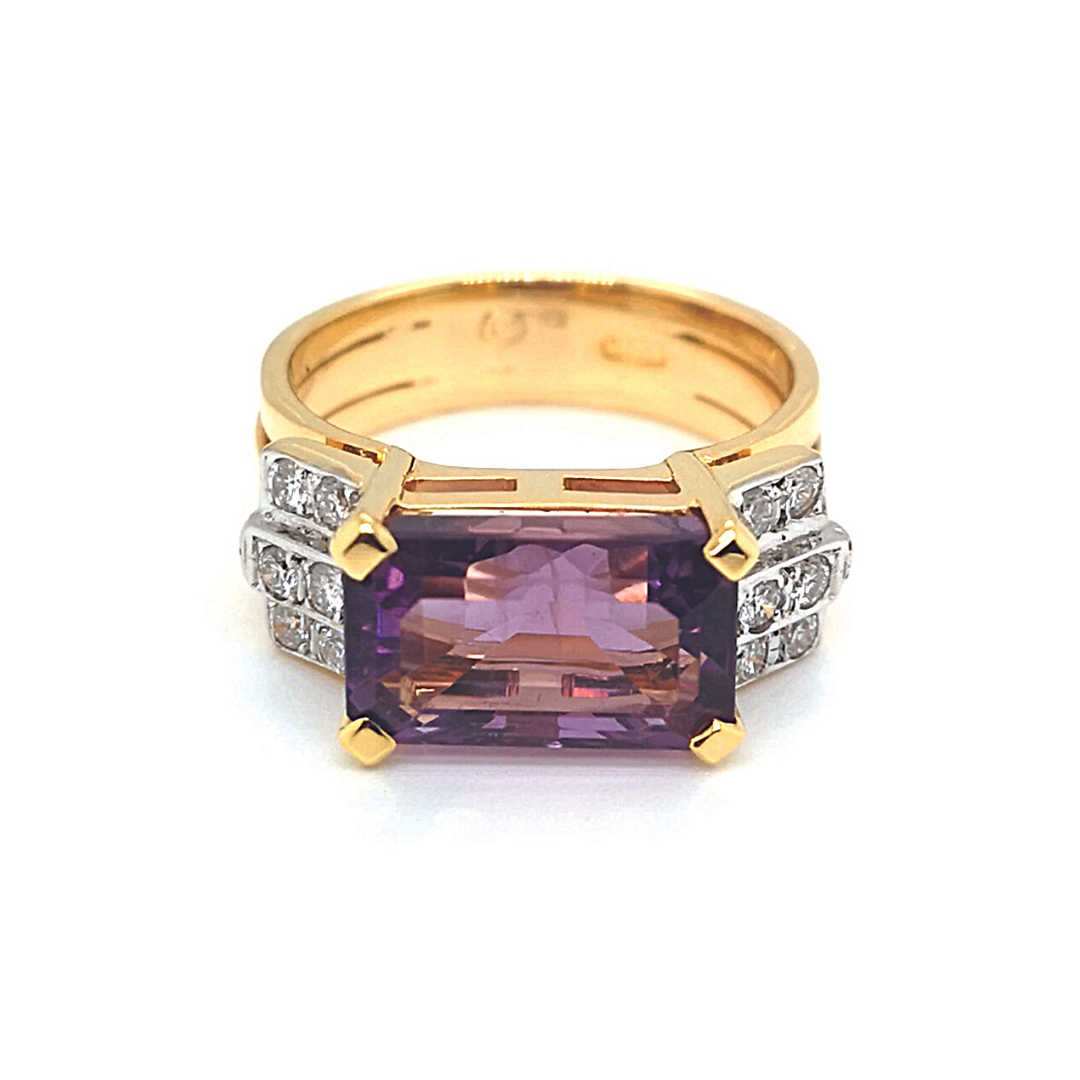 SHOP NOW AT VALUEMAX
4) Gemstone cuts
– Emerald Cut
An emerald cut is a type of step cut where the facets are parallel to one another and look like a hall of mirrors. The enchantment of vintage glitz in Art Deco is brought out in the emerald cut diamond centre piece.
[Sold] This emerald-cut emerald engagement ring shouldered by three rows of pavé diamonds on each side vibrantly reinterprets the luxurious Art Deco design: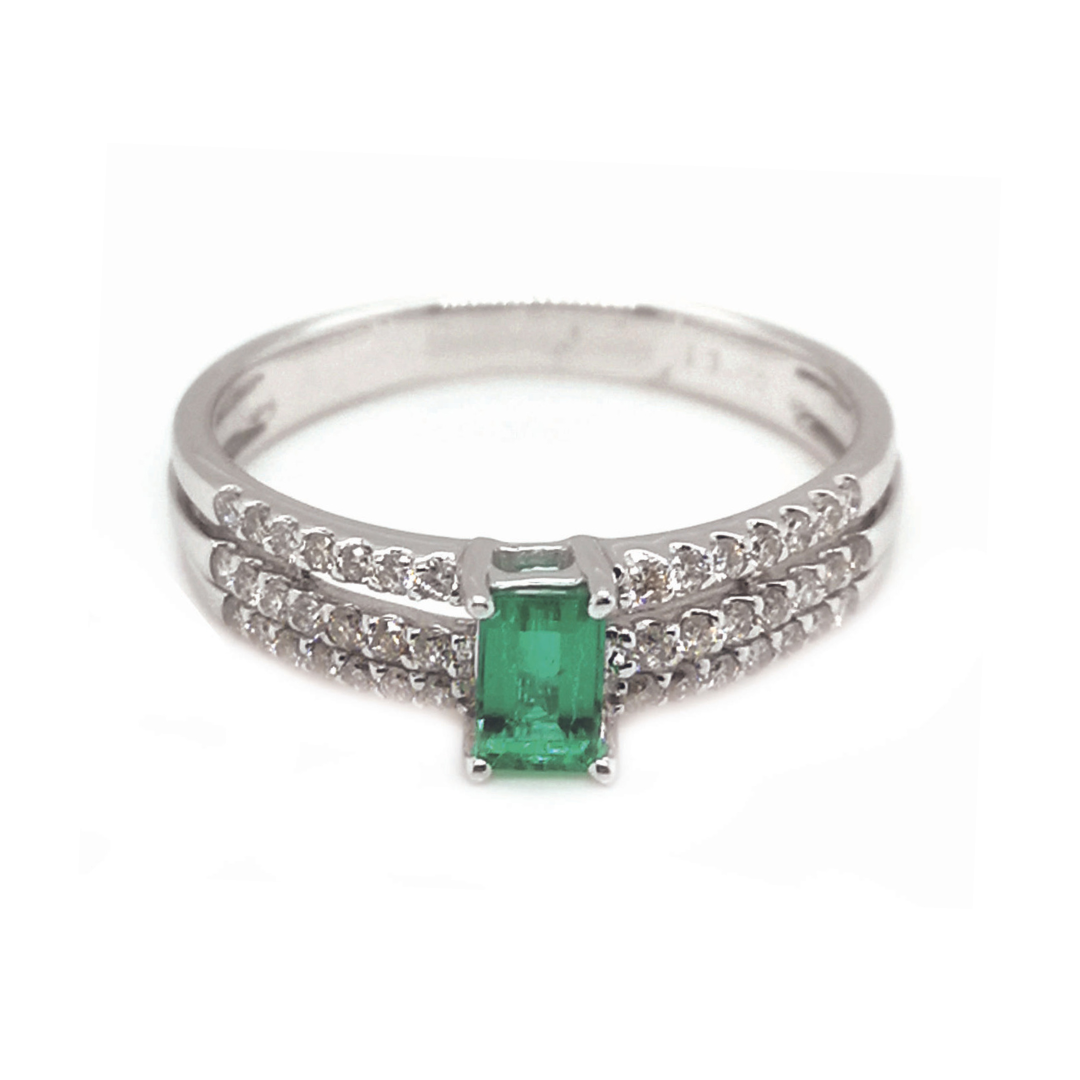 SHOP NOW AT VALUEMAX
– Round Brilliant Cut
Another popular diamond cut of the Art Deco era was the faceted round brilliant cut, referred to as transitional cuts. It has a slightly different diamond anatomy than their modern-day counterparts. After decades of diamond cutting evolution, the transitional cut diamond has evolved to the round brilliant cut diamond we have today.
This ring features a modern-day round brilliant cut centre piece in a cushion halo accented by pavé diamond shoulders: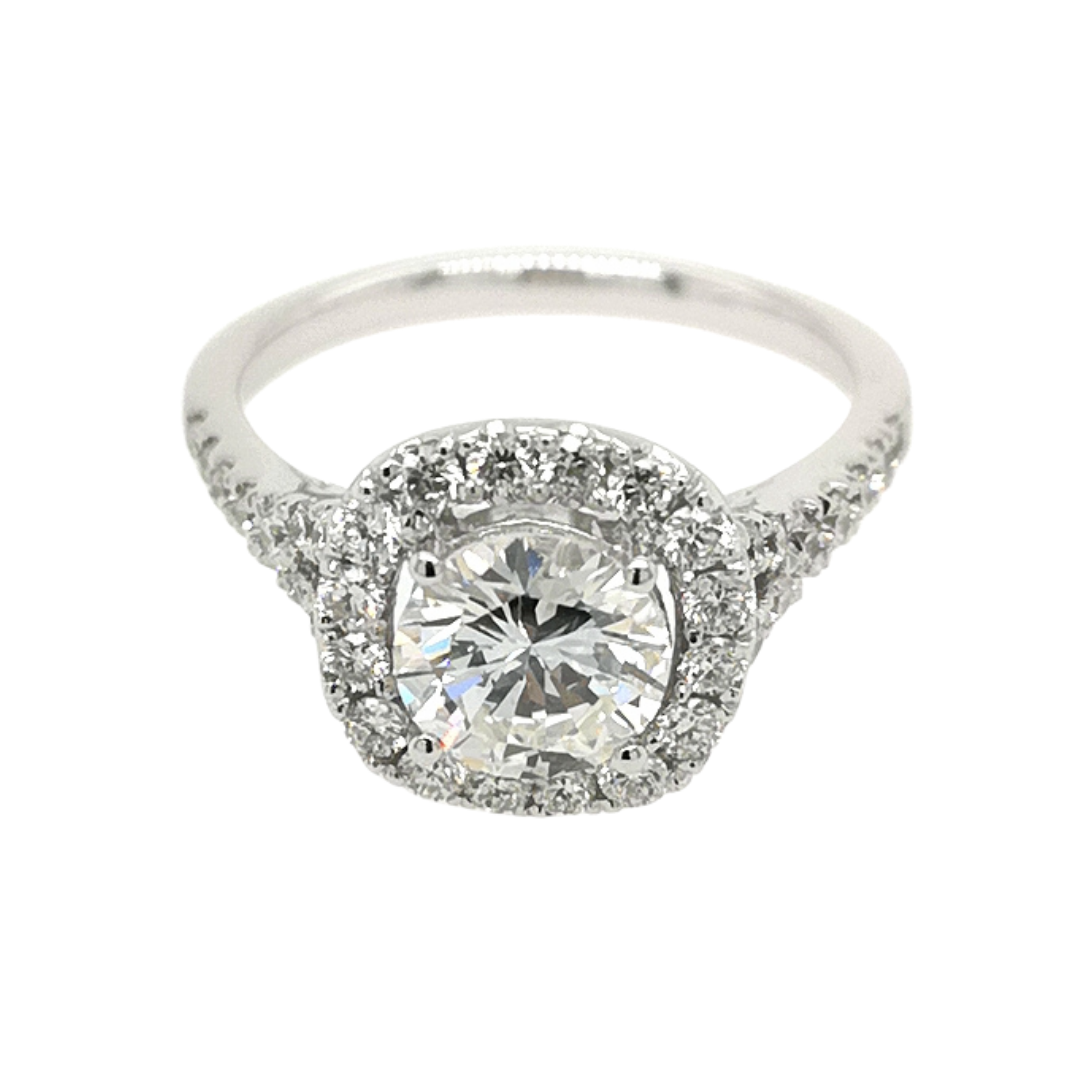 SHOP NOW AT VALUEMAX
– Calibré cut stones and pavé diamond shoulders
Calibre cut stones and pavé diamond shoulders were also typical of this era. The designs are tightly packed with gemstones cut to fit together perfectly, with little or no metal showing. Calibré cut stones are invisibly set gemstones which are cut to precision for a specific fit. The shoulder of a diamond ring marks the point between the setting and band of the ring. In an Art Deco inspired design, both shoulders are often lined with pavé diamonds.
Designed as a bold statement of love and romance, this ring features calibré cut baguette diamonds encircling a beautiful heart shape sapphire for an appealing symmetry: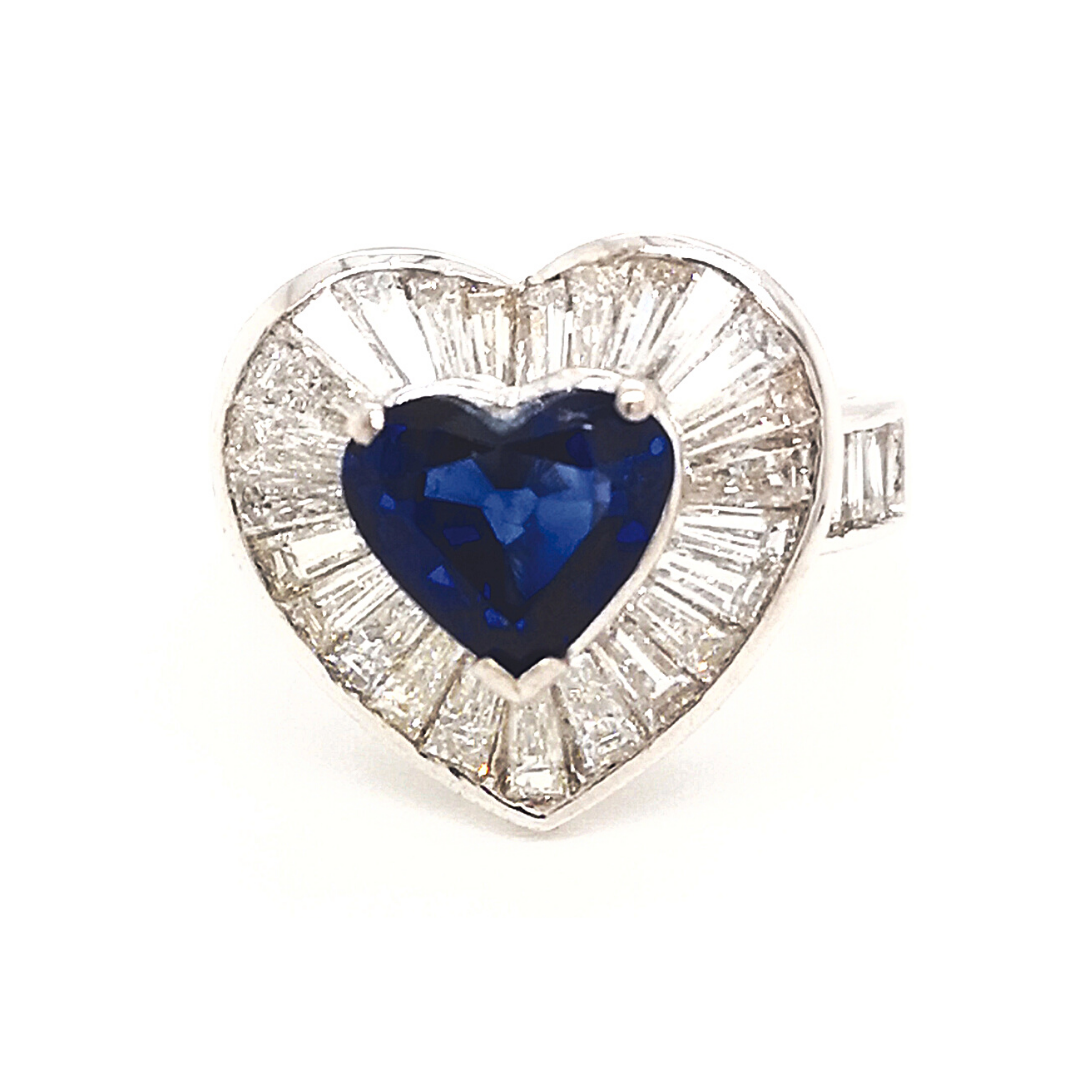 SHOP NOW AT VALUEMAX
Featured here is an invisibly set technique on a symmetrical square ring, set with diamonds and calibré cut sapphires: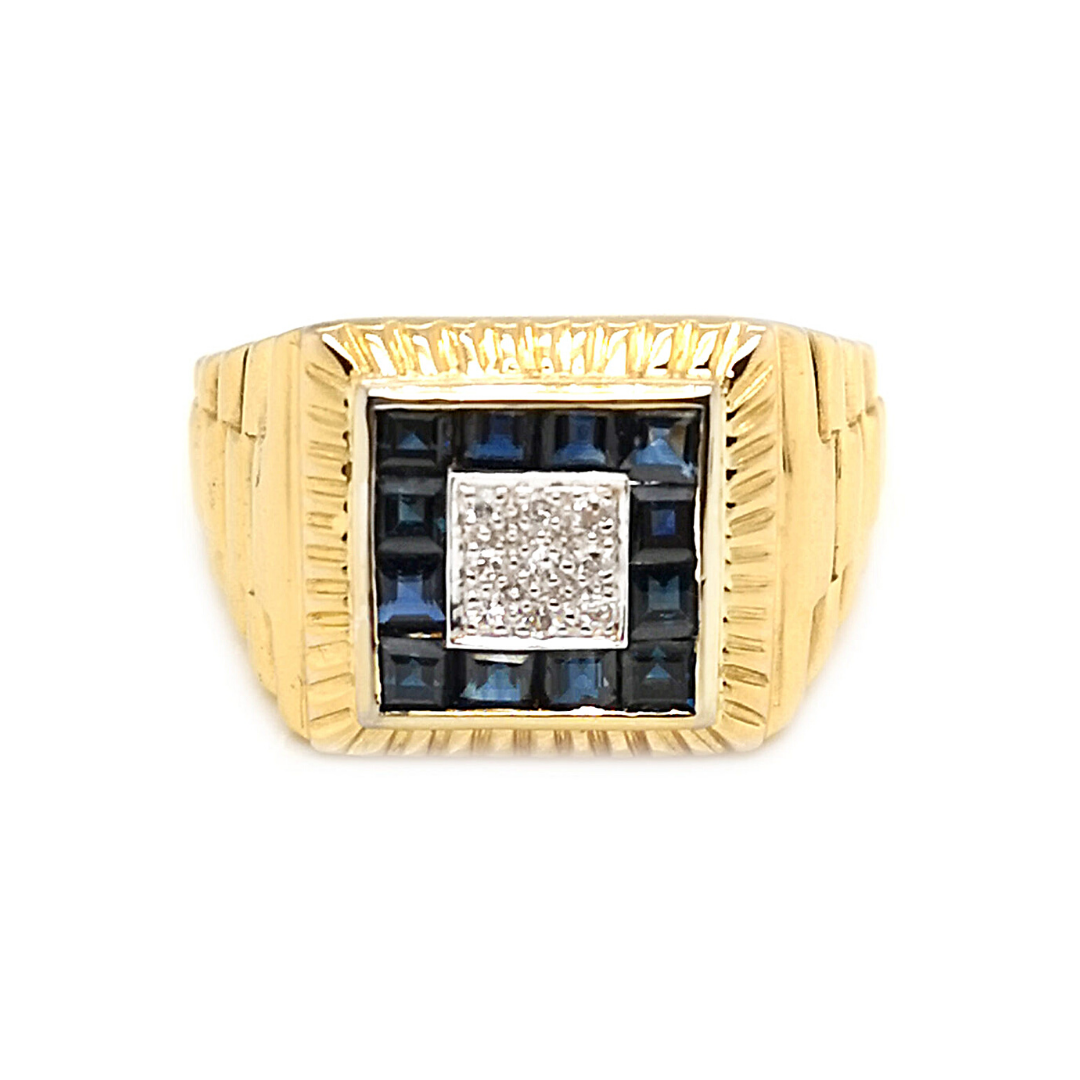 SHOP NOW AT VALUEMAX
Encompassed by a dazzling halo border, this ring features four calibré cut diamonds creating an uninterrupted effect that makes the centre piece look like a large stone: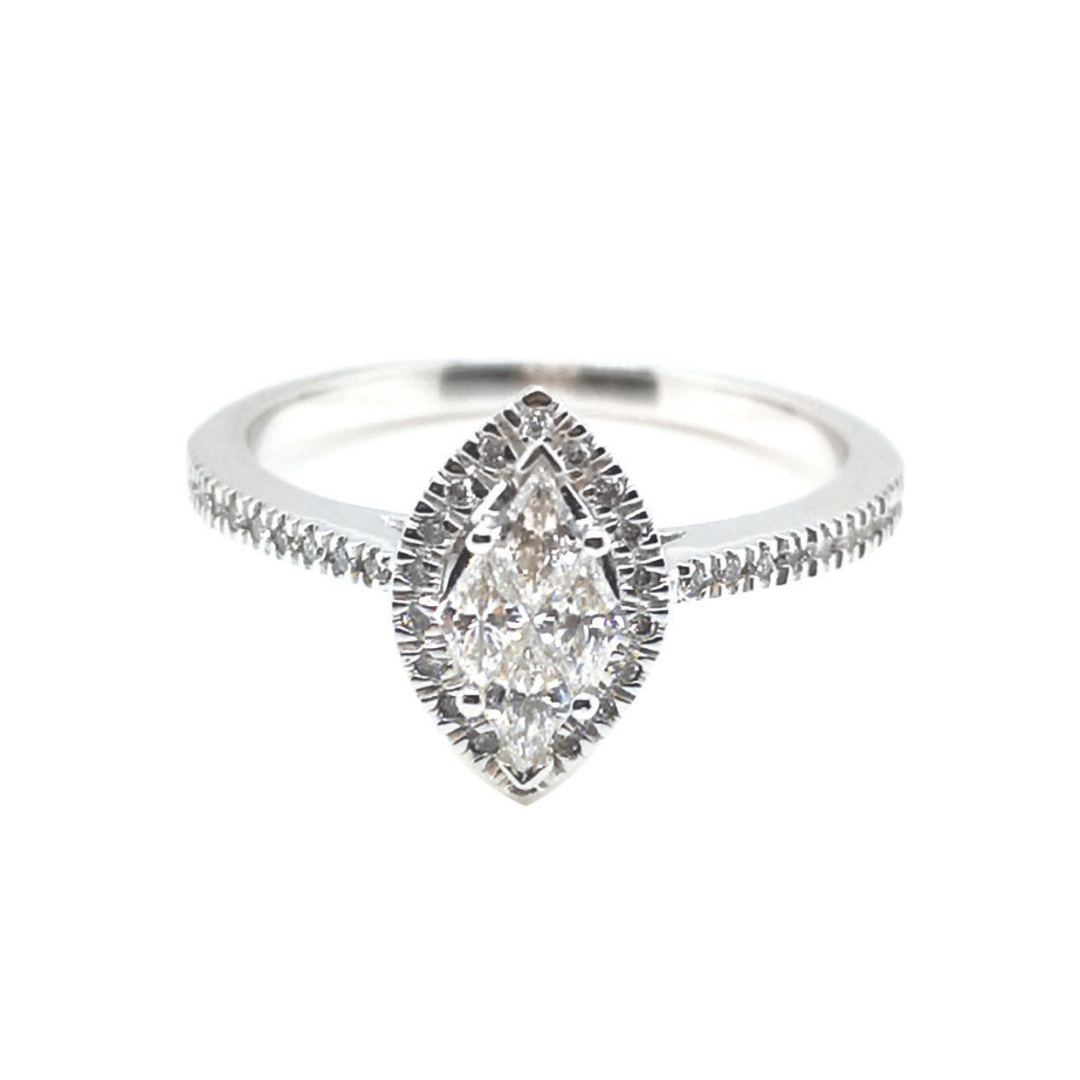 SHOP NOW AT VALUEMAX
5) Filigree Work
Filigree designs were desirable during the elegance of the Edwardian period and reached the peak of popularity during the era of Art Deco in the 1920's and 1930's. The geometric designs of filigree mirrored the abstract geometry of Art Deco design.
[Sold] This Art Deco inspired ring is topped with a four prong set round cabochon of natural jadeite jade which are accentuated with intricate filigree engravings.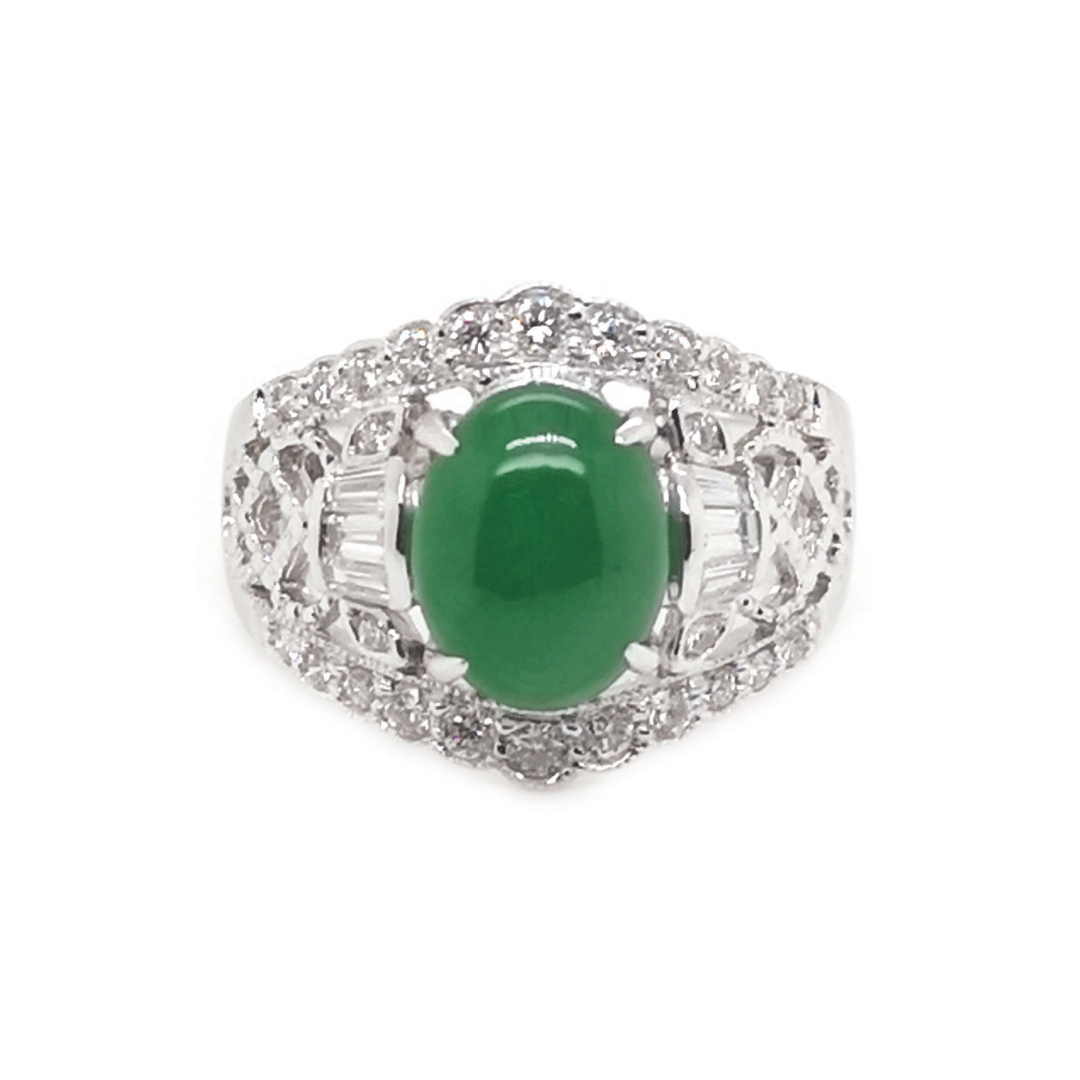 SHOP NOW AT VALUEMAX
Click me!